This page is for the Moon Pie Press poets we have lost over the years. They are missed. Their words live on in their books; we have copies of all if you'd like to order any.

Award-winning Maine writer Robert M. Chute died in May 2021 at age 95. He published at least 13 poetry books and 3 novels. His interests were wide-ranging. (Moon Pie Press published his chapbook called ESSAYS IN ALL DIRECTIONS in 2007.) A sixth-generation descendant of Thomas Chute, first settler of Windham, Maine, he served in the Air Force in World War II and was an active supporter of Veterans For Peace. He was a professor of biology at Bates College from 1962 to 1993. A modest and courtly man, he had a scientist's eye for details of the natural world and animals. A cat lover, he published a chapbook called CAT TAILS with photos and poems about his own beloved cats. In 2002 he reissued his narrative poem sequence from the 1970s called Thirteen Moons, which is in English, French, and Passamaquoddy.

Ted Bookey (1928-2019) died on March 10, 2019. Ted had a huge influence on the Maine poetry scene. He moved to Maine in 1980 from New York, where he taught English in public schools and at Long Island University. Ted taught poetry and humor in the Senior College at UMaine-Augusta. He mentored many poets at all levels of experience. Ted was the author of five poetry books: Mixty Motions (translations from Erich Kastner, done with his wife Ruth), and four books from Moon Pie Press: Language As A Second Language, Lostalgia, With A W/Hole In One and 'Stitiously Speaking, the latter published in 2017. He was also the editor of two anthologies of student poetry from the Senior College, also published by Moon Pie Press. Ted and Ruth ran a very successful poetry reading series at the Harlow Gallery in Hallowell which continues to this day and is called The Bookey Readings At the Harlow. Ted had a huge heart and lived his life with great gusto. He was funny, generous, learned and completely unpretentious. He leaves a big hole that can never be filled. He is survived by his wife Ruth, daughter Eve and stepdaughter Nikki, as well as many friends.
---

H.R. Coursen's poems have appeared in Goose River Anthology, UMA Scholar, Per Contra, Shakespeare Bulletin, Spectra, Stanza, Wolf Moon and Uni-Verse, to whose editors go his thanks: Debbie Benner, Janet Cyr, Miriam N. Kotzin and Bill Turner, Tome Pendleton, Dorrie La Rue, Margaret Rockwell Finch, Laurie Graves and Dana Wilde. Two of his poems have been featured on Garrison Keillor's The Writer's Almanac on NPR. He has recently won the New England Poetry Club's prizes for best poem and best translation and the Maine Poets' Society award for best poem. His RECALLING AUGUST was runner-up for a Pushcart Prize. He teaches aviation history at Embry Riddle Aeronautical University, Shakespeare at Southern New Hampshire University, and lectures on Shakespeare at Bowdoin College.
Herb died unexpectedly in December 2011, full of life and plans, teaching, writing, and working on another poetry book to be published by Moon Pie Press. He was a towering figure in Maine literature and a good friend and mentor to many writers. He is greatly missed.
---

M. Kelly Lombardi, who passed away in September 2008, was a practicing and teaching poet who lived in coastal Washington County, Maine. She was essential in founding the Salt Coast Sages poetry group and the Roque Bluffs Poetry Festival. She taught poetry in the Sunrise Senior College, and spent part of each year at a 12th century Augustinian monastery in Tuscany, where she wrote a lot, and helped with cooking. She also travelled to Ireland frequently to immerse herself in poetry and music there. Her chapbook Tuscany Light was published in 2006. She was, among many accomplishments, a mentor, a wonderful cook and gardener, a dog lover -- and a bright spirit who is very much missed by a wide circle of friends.
---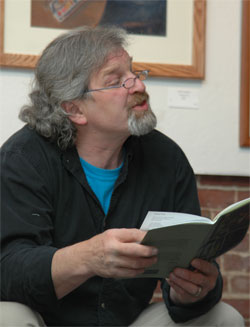 Michael Macklin Michael is a member of the staff of the Cafe Review, and dreams of spending time at the ancient monastery of the island of Sceilig Mhichil off the west coast of Ireland. He received his MFA from Vermont College. He has published poems in the Cafe Review, The Aurorean, Animus, Rattle and other journals, and several anthologies. Michael is the Reviews Editor of The Cafe Review, an international literary journal based in Portland, Maine. He owes a great deal to the support of his wife Donna and his son Gabriel, a hip-hop DJ.
We are so sad to report that Michael died on May 20, 2012. He was only 62. His obituary is in the Portland Press-Herald of May 23, 2012. Michael was a husband, father, friend, wonderful poet, and was also a teacher and mentor to many. He had a big heart and a sly sense of humor and believed passionately in, and worked for, poetry and peace.
---

A retired working guy from Boston who got serious about poetry late in life, Jack McCarthy calls himself a "standup poetry guy"; others have called him "legend." He has been featured at venues all over the U.S., in Canada and Europe. The Boston Globe: "In the poetry world, he's a rock star." Stephen Dobyns calls him "one of the wonders of contemporary poetry." He has been on two national slam teams and brought out 5 books of poetry and 2 CDs. Among other prizes, he won the haiku championship at the Individual World Poetry Slam. He lives with his wife, the fabulous Carol, in Lake Stevens, Washington. Jack's website is www.standupoet.net.
Jack McCarthy (1939-2013) left us on January 17, 2013. He died peacefully at home after a long fight with cancer. If you ever got to hear Jack read, you remembered it forever - he was so warm, engaging, profound and often very funny. Moon Pie Press is very proud to have published one of Jack's poetry books, ALMOST A REMEMBRANCE; all his books are wonderful.
---

Eva Miodownik Oppenheim has lived in New York City since her arrival as a refugee child from Nazi Germany during World War II. A graduate of Queens College, CUNY, she has studied in England and at Columbia University. She was an editor and publicity writer for films and books and served 18 years as a senior administrator in alumnae affairs at Barnard College, Columbia U. She now co-teaches a poetry workshop at Barnard's Center for Research on Women. Oppenheim's first book of poems, Things As They Are, was published by Moon Pie Press and her memoir, "The Stork," by Maggid. Her poems have appeared in many journals and anthologies including The Comstock Review, Animus, Mobius, Off the Coast, Poetica, The Little Magazine, Steam Ticket, Ars Medica, Jewish Women's Literary Annual, California Quarterly, Common Ground Review, The Broome Review, Full Moon Rising: The Best of Moon Pie Press (Vol. 2), and Agreeable Friends: Contemporary Animal Poetry (Moon Pie Press).
We are sorry to report that Eva died on December 19, 2014 in New York City. She was Ted Bookey's cousin and lifelong friend, and is survived by her husband Alan and two daughters.
---

Daniel "Duff" Plunkett is a poet who believes in the sanctity of language, but not very firmly. With long connections to the New England region of the U.S., he has traveled widely for schooling, leisure, work and just plain edification. His prior books of poetry are Strike Back Cover (1986), The Butter Poems (1996) and Left Brain-Right Brain (2007). He has written poems in the French, Italian, Spanish, and Turkish languages. In this collection, a museum name at the bottom of the page indicates that the poem was written in front of the artwork, in imitation of Impressionist technique. Duff died unexpectedly on July 7, 2019, in Portland, Maine. Please visit www.lastingmemories.com to read his obituary and see tributes and photos from his friends and family.