Our Latest Book

Dreamscape
by Claire Hersom
Read Reviews and a sample here
The Complete Catalog
Sort the catalog by clicking the column headers. Click on a title to see more details, including reviews and a sample. Click on an author to read their bio. All links open a new window.
Please note that PayPal or a credit card may be used to order online. You can also pay by check, payable to Moon Pie Press, 16 Walton Street, Westbrook, ME 04092.
ALL PRICES INCLUDE POSTAGE AND HANDLING.
Title
Author
Published
Order It
A Sense of Place: Collected Maine Poems
Bay River Press
2002
Be Careful What You Wish For
Alice N. Persons
2003
ErosIon
Nancy A. Henry
2004
Language as a Second Language
Ted Bookey
2004
Driftland
Michael Macklin
2004
Whispers, Cries, & Tantrums
Jay C. Davis
2004
Never say Never
Alice N. Persons
2004
Sex, Death, and Baseball
David Moreau
2004
Humming to Snails
Ellen M. Taylor
2005
The Flame and the Fiction
Darcy Shargo
2005
Europe on $5 a Day
Nancy A. Henry
2005
Laundry and Stories
Robin Merrill
2005
Walking Track
Jay Franzel
2005
Ways of Looking
Edward J. Rielly
2005
Things As They Are
Eva Miodownik Oppenheim
2005
A Moxie and a Moon Pie: The Best of Moon Pie Press
Nancy A. Henry and Alice N. Persons, Editors
2005
Traveling Through History
Patrick Hicks
2005
Innumerable Machines in My Mind: Found Poetry in the Papers of Thomas A. Edison
Dr. Blaine McCormick
2005
Evidence of Light
Marita O'Neill
2005
Unidentified Flying Odes
Dennis Camire
2006
Poems of Maine in the Nineteen Thirties and Forties
Brenda Shaw
2006
Rags of Prayer
Kevin Sweeney
2006
The Stream
Don Moyer
2006
Child is Working to Capacity
Tom Delmore
2006
The Desire Line
Michelle Lewis
2006
Tuscany Light
M. Kelly Lombardi
2006
The Hard Way
Jay C. Davis
2006
Angel of the Heavenly Tailgate
Annie Farnsworth
2006
Full Moon Rising: the Best of Moon Pie Press, Volume II
Alice N. Persons and Nancy A. Henry, Editors
2006
Sostenuto
Karen Douglass
2006
Essays in All Directions
Robert M. Chute
2007
You Can Still Go To Hell...and Other Truths About Being a Helping Professional
David Moreau
2007
Old Whitman Loved Baseball and Other Baseball Poems
Edward J. Rielly
2007
Singing With the Dead
Ted Thomas, Jr.
2007
Socks
Jay C. Davis
2007
Early Late Bloom
Jim Mello
2007
He Gives Me Flowers
Gaylord Day Weston
2007
The Church of St. Materiana
Anne Britting Olesen
2007
Lostalgia
Ted Bookey
2007
Life Class
Ruth Bookey
2007
To the Promised Land Grocery
Bruce Spang
2008
Drowning: A Poetic Memoir
Claire Hersom
2008
How Many Cars Have We Been Married?
Ted Bookey, editor
2008
(see book detail)
Safe Harbor: Port Veritas Poetry Anthology, Volume I
Edited by Alice Persons & Nathan Amadon
2008
Agreeable Friends, Contemporary Animal Poetry
Alice Persons, Editor
2008
The Ur-Word
Jim Glenn Thatcher
2008
Ordinary Time
Kevin Sweeney
2009
I Have Walked Through Many Lives
Young Voices - Scarborough
2009
A House of Bottles
Robin Merrill
2009
Floating
Ellen M. Taylor
2009
Vivaldi for Breakfast
John-Michael Albert
2009
BLACK BOAT BLACK WATER BLACK SAND
Dave Morrison
2009
The Lawns of Lobstermen
Douglas "Woody" Woodsum
2010
With a W/Hole in One
Ted Bookey
2010
What on Earth
Marcia F. Brown
2010
Blues in the Night
Herb R. Coursen
2010
Through the Loop of Time
Eva Miodownik Oppenheim
2010
SARX
Nancy A. Henry
2010
ALMOST A REMEMBRANCE - Shorter Poems by Jack McCarthy
Jack McCarthy
2011
Thank Your Lucky Stars
Alice N. Persons
2011
To Sadie at 18 Months and other poems
Edward J. Rielly
2011
Faulty Wiring
Bob MacLaughlin
2011
Heaven Jumping Woman
Pam Burr Smith
2011
Tell them that you saw me but you didn't see me saw
Tom Delmore
2011
The Bird Catcher
John-Michael Albert
2012
The Common Law
James McKenna
2012
Marengo Street
Anna Bat-Chai Wrobel
2012
PASSION AND PRIDE: Poets in Support of Equality
Bruce Spang
2012
HOME and Other Places
Wil Gibson
2012
Sun Shining on Snow: Poetry from the Senior College at the University of Maine at Augusta
Ted Bookey
2012
My First Beatrice
David Stankiewicz
2013
Rifles, Rumors, Gin And Prayer
Jim Donnelly
2013
Observed From a Skin Boat
John Holt Willey
2013
Back East
Michele Leavitt
2013
The Widow From Lake Bled
Kirby Wright
2013
Burning Chairs
John P. McVeigh
2013
Boy at the Screen Door
Bruce Spang
2014
JESUS WAS A FEMINIST and Other Poems
Robin Merrill
2014
When We Invented Water
Marcia F. Brown
2014
Boulders, Birch and Wood Smoke: A Maine Melody
Stephen A. Cowperthwaite
2014
Nothing Is Real
Stanley Jordan Keach, Jr.
2014
All Four Seasons
Jim Mello
2014
Feasting on Air
Eva Miodownik Oppenheim
2015
Compass Rose
Ellen M. Taylor
2015
THE WILDEST PEAL: Contemporary Animal Poetry II
Alice Persons, Editor
2015
Not Just Anybody
Bruce Spang
2015
The Left Side of My Life
Dana Robbins
2015
Fancy Meeting You Here
Alice N. Persons
2015
Stable
David R. Surette
2015
Same Bird
David McCann
2016
Imminent Tribulations
Kevin Sweeney
2016
Radost, My Red
Jeri Theriault
2016
T'ai Chi of Leaves
Elizabeth Potter
2016
Saving Nails
Thomas R. Moore
2016
Museum
Daniel Duff Plunkett
2016
At Bunker Cove
Ralph Stevens
2017
I Still Feel the Swirl
Ruth Bookey
2017
Dreamscape
Claire Hersom
2017
Our Latest Book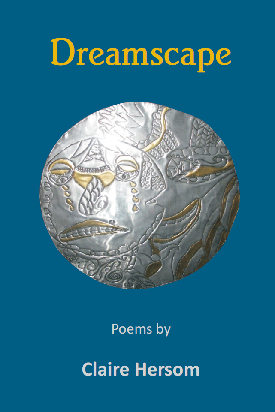 Dreamscape
by Claire Hersom – copyright 2017
ISBN 978-0-9981922-4-6
$14 including postage and handling
Read a sample
Reviews for Dreamscape
by Dennis Camire
Whether meditating on the natural world or on memories of friends, lovers and family, in DREAMSCAPE the speaker often finds that the beautiful and solace-laden world she seeks is already manifest--or there to be transformed into her reality--if she just looks closely at the world and the scars they have suffered....These wonderfully wise poems, in short, are both rewarding for the serious reader of poetry and for the solemn seeker.
by Jeri Theriault
These are poems of community and faith, the universal "we" often used to emphasize the connections the poet feels. We are all in this together, says Hersom, and there is transcendent beauty in our togetherness. ...This book celebrates the bonds of nature and family, the ties to earth and season, and the 'streams of simple remembering.'
Sample from Dreamscape
For Beauty's Sake

ďWe must see all scars as beauty.... a scar does not form on the dying. ď
- Chris Cleave


Bring the Band-Aids and gauze
the Vaseline and iodine
letís see this open wound,
this gap between
one side and another
how we can stitch it up
smooth the edges, once again
make sure there are no tears that show
discoloration or indentations
bring the adhesive tape
and soapy water and letís wash it clean
bring the tweezers and magnifying glass
letís see what we can do to
make it look like nothing ever touched
this elbow or shin or eyelid skin
give me the Neosporin, let's rub it in
disinfect the nasty scrapes and bruises,
pretend nothing ever bent us to our knees,
turned our stomachs inside out
and our souls didn't flee
even for that small second
from something it could not comprehend;
and for that one doubting moment, we
didn't once think of ourselves as deserving
of a scar-maker we sometimes loved
sometimes didn't know
sometimes we had control
and sometimes, no control
when their own despicable scar
could find no peace
and transferred itself to us instead
like a gift.

Return to Catalog