Our Latest Book

People, Places, Poems
by David McCann
Read Reviews and a sample here
The Complete Catalog
Sort the catalog by clicking the column headers. Click on a title to see more details, including reviews and a sample. Click on an author to read their bio. All links open a new window.
You can pay by check, made out to Moon Pie Press and sent to Moon Pie Press, 16 Walton Street, Westbrook, ME 04092. Please add $4.00 per book for postage and handling.
Or pay with PayPal or a credit card, which will ask you to choose ECONOMY shipping method, the only one available on the account, for all U.S. orders. $4.00 per book. Books are sent via media mail, the most cost efficient method. It may take a week or longer to receive a book. Email us at moonpiepress@yahoo.com with any questions, or about large or foreign orders. Thank you for supporting our small press and our poets!
Title
Author
Published
Order It
A House of Bottles
Robin Merrill
2009
A Moxie and a Moon Pie: The Best of Moon Pie Press
Nancy A. Henry and Alice N. Persons, Editors
2005
A Sense of Place: Collected Maine Poems
Bay River Press
2002
A Stranger Home
Natalya Sukhonos
2020
After the Parade
Dana Robbins
2020
Agreeable Friends, Contemporary Animal Poetry
Alice Persons, Editor
2008
All Four Seasons
Jim Mello
2014
All You'll Derive: A Caregiver's Journey
Bruce Spang
2019
ALMOST A REMEMBRANCE - Shorter Poems by Jack McCarthy
Jack McCarthy
2011
Angel of the Heavenly Tailgate
Annie Farnsworth
2006
At Bunker Cove
Ralph Stevens
2017
Back East
Michele Leavitt
2013
Be Careful What You Wish For
Alice N. Persons
2003
Be There or Be Square
Alice N. Persons
2018
Big Little City
Mike Bove
2018
BLACK BOAT BLACK WATER BLACK SAND
Dave Morrison
2009
Blues in the Night
Herb R. Coursen
2010
Boulders, Birch and Wood Smoke: A Maine Melody
Stephen A. Cowperthwaite
2014
Boy at the Screen Door
Bruce Spang
2014
Burning Chairs
John P. McVeigh
2013
Child is Working to Capacity
Tom Delmore
2006
Compass Rose
Ellen M. Taylor
2015
Dreamscape
Claire Hersom
2017
Driftland
Michael Macklin
2004
Drowning: A Poetic Memoir
Claire Hersom
2008
Early Late Bloom
Jim Mello
2007
ErosIon
Nancy A. Henry
2004
Essays in All Directions
Robert M. Chute
2007
Europe on $5 a Day
Nancy A. Henry
2005
Evidence of Light
Marita O'Neill
2005
Fancy Meeting You Here
Alice N. Persons
2015
Faulty Wiring
Bob MacLaughlin
2011
Feasting on Air
Eva Miodownik Oppenheim
2015
Floating
Ellen M. Taylor
2009
Frida's Boots
Dana Robbins
2022
Full Moon Rising: the Best of Moon Pie Press, Volume II
Alice N. Persons and Nancy A. Henry, Editors
2006
Giving It Up to the Wind
Jack Troy
2021
He Gives Me Flowers
Gaylord Day Weston
2007
Heaven Jumping Woman
Pam Burr Smith
2011
HOME and Other Places
Wil Gibson
2012
Homelands
Ellen M. Taylor
2022
House Museum
Mike Bove
2021
How Many Cars Have We Been Married?
Ted Bookey, editor
2008
Humming to Snails
Ellen M. Taylor
2005
Hummingbird
James Breslin
2019
I Have Walked Through Many Lives
Young Voices - Scarborough
2009
I Still Feel the Swirl
Ruth Bookey
2017
Imminent Tribulations
Kevin Sweeney
2016
In the Afternoon
Marcia F. Brown
2019
Innumerable Machines in My Mind: Found Poetry in the Papers of Thomas A. Edison
Dr. Blaine McCormick
2005
JESUS WAS A FEMINIST and Other Poems
Robin Merrill
2014
Language as a Second Language
Ted Bookey
2004
Laundry and Stories
Robin Merrill
2005
Life Class
Ruth Bookey
2007
LOST and FOUND
David McCann
2018
Lostalgia
Ted Bookey
2007
MALDEN
David R. Surette
2018
Marengo Street
Anna Bat-Chai Wrobel
2012
More Fun Than Pretty
Tony Magistrale
2021
Museum
Daniel Duff Plunkett
2016
My First Beatrice
David Stankiewicz
2013
Nameless Roads
Jim Brosnan
2019
Never say Never
Alice N. Persons
2004
Not Just Anybody
Bruce Spang
2015
Nothing Is Real
Stanley Jordan Keach, Jr.
2014
Observed From a Skin Boat
John Holt Willey
2013
Old Whitman Loved Baseball and Other Baseball Poems
Edward J. Rielly
2007
One Day in One Town
James McKenna
2019
Ordinary Time
Kevin Sweeney
2009
Out of Words
David McCann
2019
PASSION AND PRIDE: Poets in Support of Equality
Bruce Spang
2012
People, Places, Poems
David McCann
2023
Playing Solitaire
Edward J. Rielly
2022
Poems of Maine in the Nineteen Thirties and Forties
Brenda Shaw
2006
Questions You Were Too Polite to Ask
John-Michael Albert
2018
Radost, My Red
Jeri Theriault
2016
Rags of Prayer
Kevin Sweeney
2006
Red Stone Fragments
Thomas R. Moore
2019
Rifles, Rumors, Gin And Prayer
Jim Donnelly
2013
Safe Harbor: Port Veritas Poetry Anthology, Volume I
Edited by Alice Persons & Nathan Amadon
2008
Same Bird
David McCann
2016
SARX
Nancy A. Henry
2010
Saving Nails
Thomas R. Moore
2016
Sending Bette Davis to the Plumber
Jenny Doughty
2017
Sex, Death, and Baseball
David Moreau
2004
Singing With the Dead
Ted Thomas, Jr.
2007
So Far
Gretchen Berg
2022
Socks
Jay C. Davis
2007
Sostenuto
Karen Douglass
2006
Stable
David R. Surette
2015
'Stitiously Speaking
Ted Bookey
2017
Stones
Thomas R. Moore
2021
Sun Shining on Snow: Poetry from the Senior College at the University of Maine at Augusta
Ted Bookey
2012
T'ai Chi of Leaves
Elizabeth Potter
2016
Tangled
Antonia Lewandowski
2023
Tell them that you saw me but you didn't see me saw
Tom Delmore
2011
Thank Your Lucky Stars
Alice N. Persons
2011
That Mischievous Moon
Jim Donnelly
2017
The Arrangement of Things
Anna Bat-Chai Wrobel
2018
The Bird Catcher
John-Michael Albert
2012
The Church of St. Materiana
Anne Britting Olesen
2007
The Common Law
James McKenna
2012
The Desire Line
Michelle Lewis
2006
The Flame and the Fiction
Darcy Shargo
2005
The Hard Way
Jay C. Davis
2006
The Lawns of Lobstermen
Douglas "Woody" Woodsum
2010
The Left Side of My Life
Dana Robbins
2015
The Stream
Don Moyer
2006
The Ur-Word
Jim Glenn Thatcher
2008
The Widow From Lake Bled
Kirby Wright
2013
THE WILDEST PEAL: Contemporary Animal Poetry II
Alice Persons, Editor
2015
Things As They Are
Eva Miodownik Oppenheim
2005
Through the Loop of Time
Eva Miodownik Oppenheim
2010
To Sadie at 18 Months and other poems
Edward J. Rielly
2011
To the Promised Land Grocery
Bruce Spang
2008
Tonic
David R. Surette
2023
Traveling Through History
Patrick Hicks
2005
Tuscany Light
M. Kelly Lombardi
2006
Unidentified Flying Odes
Dennis Camire
2006
Vivaldi for Breakfast
John-Michael Albert
2009
Walking Track
Jay Franzel
2005
Ways of Looking
Edward J. Rielly
2005
What on Earth
Marcia F. Brown
2010
When We Invented Water
Marcia F. Brown
2014
Whispers, Cries, & Tantrums
Jay C. Davis
2004
With a W/Hole in One
Ted Bookey
2010
You Can Still Go To Hell...and Other Truths About Being a Helping Professional
David Moreau
2007
Book Details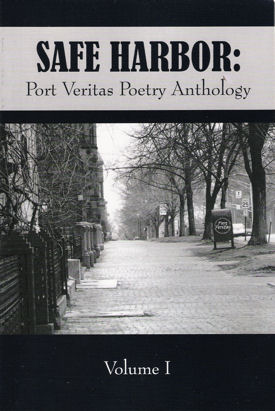 Safe Harbor: Port Veritas Poetry Anthology, Volume I
Edited by Alice Persons & Nathan Amadon – copyright 2008
ISBN 978-1-60643-187-0
$14
Read a sample
Reviews for Safe Harbor: Port Veritas Poetry Anthology, Volume I
by Alice Persons
This is not a review - our book is too new for that.
Port Veritas is a spoken word organization based in Portland, Maine that was started in 2003 by Peddlar Bridges and then Nate Amadon. Every Tuesday night at the North Star Cafe on Munjoy Hill in Portland, Port Veritas has a poetry event, or a poetry slam, and often, music. Come down and sign up for the open reading.
This is the first volume of poetry and prose in an anthology series. Some of the writers are new and young, some are seasoned, some are well known. The writing is fresh, honest and real. Proceeds from the sale of this book will help to send a Portland poetry slam team to the national competition in Madison, Wisconsin in August 2008. Sales will also help to bring poets and musicians to the North Star Cafe and other venues.

The writers:

Marita O'Neill
The Reverend Rachel Zal
Nate Amadon
Wil Antony
Jack McCarthy
Peddlar Bridges
Sean a.k.a. Guala
Gil Helmick
Patricia Smith
Lila Kole
Wil Gibson
Jay Davis
Dan Olney
Jake Wartell
Sample from Safe Harbor: Port Veritas Poetry Anthology, Volume I
Irony by Nate Amadon
This is irony in the 21st century.
If I had a gun I would shoot Charlton Heston right between his beady lil eyes.
And if I had the balls I'd take a copy of this poem stick it in a dictionary and mail it off to Alanis Morrissette. Irony is the clan I saw on TV the other day. 50 big bad assed rednecks singing Amazing Grace. We sing this at all of our rallies, Big Bubba the grand poobah stutters.I guess the reporter didn't have the gall to tell this big browed throwback that Amazing Grace was written by an ex slave trader who spent the latter half of his life repenting of his sins and speaking out against the atrocity of slavery. Not that it would matter to Bubba, even if I sent him a dictionary he wouldn't know how to spell atrocity.
Irony is a certain religious group railing on the gay community for years. Only to find out that getting on your knees at church doesn't necessarily have anything to do with prayer.
Irony is the Jaguar I saw on the street the other day. The license plate said DOT COM and in the rear window a white piece of paper with words FOR SALE scribbled with a sharpie. Okay that's not ironic but it is poetic. This is poetry in the 21st century. Ironic, sardonic and completely external. What's wrong with me is what's wrong with the world. Now that's irony, borderline. Paradox.
Return to Catalog